Overpaid Child Support Paralegal Help Washington State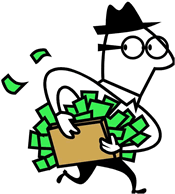 Overpaid on your obligation? Have Snohomish County Paralegal Services prepare your documents to get reimbursed.
There are a lot of ways you can end up in this situation, whether it is poorly interpreted orders, or expenses that were never really paid. A common situation is when secondary educational support is not properly being complied with or the child has insufficient academic progress.
Day care related expenses are frequently not actually incurred, so the paying parent has a right to seek reimbursement. That little black hat dude is clearly looking over his shoulder as he runs off with the money.
Paralegal document service Snohomish County WA family law Redmond 98052 Everett 98208 Bothell 98012 Shoreline 98133 Kirkland 98034 Bellevue 98006 Lynnwood 98036 Edmonds 98026 Lake Forest Park 98155 Snohomish 98290 Lake Stevens 98258 Monroe 98272 Sammamish 98074 Woodinville 98072 Mukilteo 98275 Mountlake Terrace 98043 in Washington State